I distinctly remember 35 years ago when Peg and I moved from Indiana to Minneapolis. This was quite an adventure for a couple of small town "Hoosiers!" We had no idea what life in the "big city" was going to be like. We had heard horror stories about the cold and snow and the traffic; were just not sure what we were getting ourselves into. I remember going to job interviews when I graduated from St. Thomas. I did not want to deal with the "unknown" on the day of the interview concerning where I was going, the location of the office buildings were, how long it would take to drive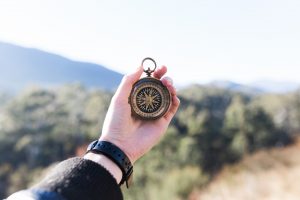 there, etc (remember this was pre-GPS days!). The job interview was enough stress! I did not want to deal with the other unknown factors at the same time. Quite often, the day before a job interview, I would drive to the area and locate the office building and walk to the office just to make sure I knew where I was going. I would even drive down at the same time of the interview so I would have an idea of how traffic was going to be. Perhaps you have needed to go someplace you have never been before, and you knew the route to take, but you still experienced some uncertainties because you have never been there before. You are not quite sure what you are going to find when you get there! Psalm 119:105 tells us that God's word is a lamp to our feet, and a light to our path. God so often gives us direction and guidance for what is in front of us. Often the destination is not quite revealed. Walking in the woods at night with a flashlight, we find ourselves more concerned about what is within the next few steps, and only look far ahead a few times as we progress.
God does not want us to stay in our places of comfort. We wants us on the path, with His Word lighting our steps. I am not so sure that God even really has a destination for us, but wants simply to take us on a journey. We always seem to want to know where we are going. We as a culture are so task and performance oriented we feel such a need to know what the outcome will be. God takes delight in the journey. It seems to me that when I feel I finally understand something about God, He opens it up even deeper to me, and I feel like I have only begun to scratch the surface. I want to encourage you today. You may not understand enough for your comfort where God seems to be taking you, or what He is doing with New Life Church. Rather that being concerned about the "destination", enjoy the journey! God is love. Love is not a place, it is life! May God bless you this month! Let His Word be a lamp to your feet!
Pastor Jay and Peg Snyder