Another school year!
The years just keep ticking away, don't they?
Some of you may have sent a child to kindergarten this year, or like me, sent another one off to college.
Enjoy every stage of life you are in and seek to maintain a heart full of joy in the Holy Spirit!
---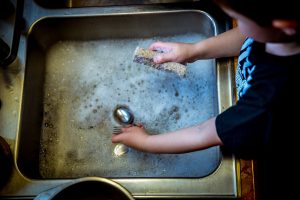 Responsibility…..that trait as parents we all work hard to instill in our children.
 We all want our children to be responsible. I remember when my children were small and we were teaching them to be responsible for their chores. One method that was very successful was to reward them for responsibility. We had a "chore chart" that they marked as their responsibilities were completed. They were rewarded for accomplishing them without being asked, and for doing an excellent job. Responsibility is an important character trait. Here is how Webster defines responsibility: reliability, trustworthiness; to be able to answer for one's conduct; able to choose for oneself between right and wrong.
Responsibility is an important character trait.
A key word in this definition is "trustworthiness." Can others trust you to follow through. Also, "to be able to answer for one's conduct." Do you take responsibility for your actions? With others and with God?
Let's look at a positive example of responsibility from scripture. Joseph is an example for us of many God character traits. Here, Joseph is given the responsibility of managing the nation of Egypt: Gen 41:37-45
"The plan seemed good to Pharaoh and to all his officials. So Pharaoh asked them, "Can we find anyone like this man, one in whom is the spirit of God?"  Then Pharaoh said to Joseph, "Since God has made all this known to you, there is no one so discerning and wise as you. You shall be in charge of my palace, and all my people are to submit to your orders. Only with respect to the throne will I be greater than you." So Pharaoh said to Joseph, "I hereby put you in charge of the whole land of Egypt." Then Pharaoh took his signet ring from his finger and put it on Joseph's finger. He dressed him in robes of fine linen and put a gold chain around his neck. He had him ride in a chariot as his second-in-command, and men shouted before him, "Make way!" Thus he put him in charge of the whole land of Egypt. Then Pharaoh said to Joseph, "I am Pharaoh, but without your word no one will lift hand or foot in all Egypt." Pharaoh gave Joseph the name Zaphenath-Paneah and gave him Asenath daughter of Potiphera, priest of On, to be his wife. And Joseph went throughout the land of Egypt." [NIV]
This was quite a responsibility! Yet Joseph was well equipped to be successful. Joseph faithfully served Pharaoh and his house, to the point of saving up grain to feed the nation during a time of famine. Joseph sought not only his welfare, but was responsible for the welfare of a nation.
Joseph was well equipped to be successful.
Let's look at a negative example of responsibility from scripture. The familiar story of the Garden of Eden: Gen 3:8-13
"Then the man and his wife heard the sound of the LORD God as he was walking in the garden in the cool of the day, and they hid from the LORD God among the trees of the garden. But the LORD God called to the man, "Where are you?" He answered, "I heard you in the garden, and I was afraid because I was naked; so I hid." And he said, "Who told you that you were naked? Have you eaten from the tree that I commanded you not to eat from?" The man said, "The woman you put here with me–she gave me some fruit from the tree, and I ate it." Then the LORD God said to the woman, "What is this you have done?" [NIV]
Adam and Eve were given responsibility in the garden.
They were disobedient to God and failed in their responsibility. You know the results.
I was afraid …so I hid.
How and when have you been responsible? When have you failed to be responsible?
For those of us with families, we know the responsibility that goes along with that. But consider also responsibility in what may seem smaller aspects of life. Following through on commitments, doing what you agree to do or accomplish, taking care of other's property. It is in these small areas that we fail most of the time.
Here are some questions for self evaluation:
Do I accept responsibility for my actions at all times?

Do I accept responsibility for my failures, or do I tend to make excuses?

When I have not acted responsibly, do I feel angry toward myself?

When I look at my responsibilities, do I tend to worry?

Do I think more about my rights than I do my responsibilities?

Do I take care of other people's property as if it were my own?

Do people in authority entrust me with extra responsibilities?

Do I seek additional responsibilities, or do I avoid it?

Am I responsible to keep scheduled apopointments and to be on time?

Do I carry out my jobs properly when my superiors are not present?

Do I avoid making rash promises?

Do I keep the promises I make?
Here are some scriptures to help you build responsibility into your life:
Galatians 6:5 — for each one should carry his own load. [NIV]

1 Peter 4:10 — Each one should use whatever gift he has received to serve others, faithfully administering God's grace in its various forms. [NIV]
For you with children, do a web search on responsibility. There are many ideas and tools out there to help you with teaching your children. One side note, make sure you shower them with love whether they are successful or if they fail. We don't want to add to the performance orientation our society is built upon.
Love them for who they are!
Remember – God loves you whether you take a nap or raise the dead! Just be responsible with both.
Pastor Jay Snyder